Last week, on October 13 and 14, Kyiv hosted the IP&I management forum, a large online and offline discussion platform for discussing the peculiarities of commercializing innovative developments in higher education institutions, scientific institutions, and research organizations.
Employees of the Kyiv Academic University were co-organizers of this event as part of the BOOSTalent project.

One of the priorities of Ukraine is the development of innovation infrastructure, effective protection and enforcement of intellectual property, and commercialization of innovations.
This was emphasized by Andriy Anisimov, Head of the Intellectual Property and Innovation Department of the Ministry of Economy of Ukraine, welcoming the participants of the "IP&I management: How to commercialize your innovative product and make money?" forum organized by the IP Office with the support of iHUB.
The IP&I Management Forum is primarily focused on practice. This was emphasized by Olena Orliuk, Head of IP Office. During the two-day event, the organizers considered solutions to problematic issues and practical cases on intellectual property management. IP office specialists and leading innovation drivers shared their experience, legislative changes and advice on how to do it correctly and efficiently.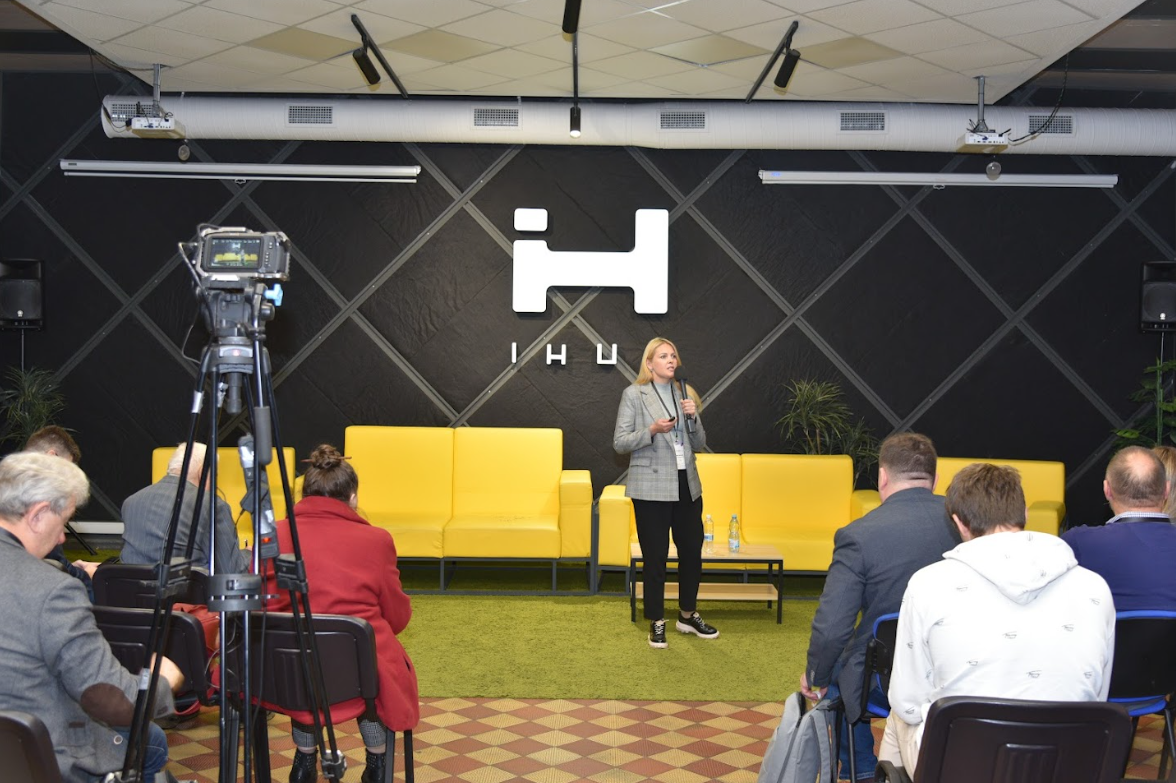 Congratulations to our startup development expert at KAU Olena Tsyplitska, who spoke on the theoretical and practical aspects of innovative business development, as well as the experience of scaling unicorn startups in the global market, in her report "Scaling Innovations and Entering New Markets".
The speaker also noted the state of funding for innovative projects in Ukraine during the war and the dynamics of venture capital investment, which has almost halved in volume. However, projects that are interesting to investors continue to be created in Ukraine, in particular, deep tech projects.
The Institute's employee outlined various aspects of entering foreign markets for Ukrainian business: possible models, business registration issues, and cultural peculiarities of doing business in different regions of the world.

Listen to all the presentations of the first day's speakers here:
Academ.City TISC CEO Sergiy Fomenko had an opportunity to communicate with colleagues on technology transfer and rights protection and shared his impressions of the forum:

"The Forum "IP&I management: How to commercialize your innovative product and make money?" was a really powerful event that revealed many aspects of commercializing an innovative product, methods of attracting investment, promoting developments to the market, etc.
This was due, in particular, to the invited speakers, experienced professionals who shared their experience and knowledge. In my opinion, the practical discussion part was very interesting, during which cases with certain issues were considered in order to choose the best option for bringing the development to the market. In addition, such events are a good opportunity for networking and developing new useful contacts.
I am sincerely grateful to the organizers of this forum for such an interesting and useful event, which was held at a very high level. My wish is to organize such events on a regular basis.